While I was running according to my half marathon program I have registered myselt for the Boston Memorial Half which was on May 24, in downtown Boston, which I like most out a bunch of events here because I could get a chance to run and see Boston main streets I could never get a chance to run except this kinda occasion. I set a target for me as 1:45 and this will be my PR also.
Meanwhile, I have discovered a new and convenient place to run, Reading Merorial High School tracks which is about 1.8 miles distance to Johnsn Woods. So according to my daily plan sometimes I run 40 lap, sometime less but with a faster pace. That was a good opportunity for me because it is tartan track and usually not many running on. So I feel this place as my private track. I am used to run there through Willow, Intervale streets and make quite a loop reaching my target. The following track record shows that I have run 13.5 miles on that day, 41 loops, plus incoming and outgoing run.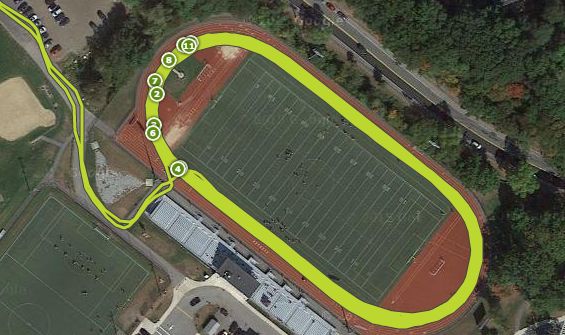 I have run almost 700-800 miles until 24 May, indoor and outdoor. Because of severe snow and cold weather in the area, which was reported that 100-year record, most of the times I ran in gym here Johnson Woods, thanks to those who built one.
After having my tom-tom watch as a birthday gift from my son and daughter-in-low which measures also heart rate without chest stripe, I could track my paces, speed, during and after running and adjust my speed and strides accordingly.
My everyday route which is close to JW and covered with historical buldings, big old oak and pine trees is Summer Street connection with West Street and roads crossing between these two almost parallel streets. This route is almost 5.5 miles.