Choosing a major can be a difficult decision, but there are steps you can take to help make the process easier. The reality is that many students change their majors. According to a 2020 "BestColleges study", 3 in 5 college grads would change their majors if they could go back.
Gallup, in its recently released State of the Global Workplace: 2022 report, found that, along with dissatisfaction, workers are experiencing staggering rates of both disengagement and unhappiness. Sixty percent of people reported being emotionally detached at work and 19% as being miserable. Only 33% reported feeling engaged ­­— and that is even lower than 2020[1].
Before you commit to a major, you should consider several factors, including the program cost, your salary expectations, and the employment rates in that field of study. In addition, you should think about your personality, your academic and professional goals, and your interests.
Choosing a major represents a significant step in the college process, and it shouldn't be taken lightly. Here are the factors to consider before choosing a major.
What Are Your Biggest Priorities, your objects?
You may pursue certain majors primarily based upon salary potential and job demand; or what you're passionate about or highly skilled in.
Use SMART formula to set an objective that we have learned in Business Class. What was SMART? Objective should be Specific-Measurable-Achievable-Relevant-Time Bound.
"What Are You Interested" in and "What Are You Good At"?
Studies have found that students tend to perform better in school when they can focus on their interests. Unfortunately, it's not always easy for people to identify their interests.
Take personality and career assessments: Consider taking personality and career assessments to help identify your strengths and interests. These assessments can provide valuable insights into your personality traits and how they relate to different career paths. To get help with this, consider taking a personality quiz. For example, https://www.intelligent.com/best-free-career-tests-and-quizzes/    offers variety "The Best Free Career Tests And Personality Assessments" websites that you can test yourself finding advices closely align with your personality and interests.
You can also explore potential areas of study and career paths by joining student clubs, volunteering, working a part-time job on campus, managing a side hustle, or completing an internship.
Understanding your natural skills and talents can go a long way in helping you make an informed and confident decision when choosing a major.
It may be your parents' dream for you to be an artist, but what if you skew more toward business or science? Or they may not like the branch you dream about. Just because someone else has a degree path in mind doesn't mean it's right for you.
One way to determine which academic fields best suit you is to take a close look at your high school grades and your ACT or SAT scores, teacher evaluations system in our school. Doing this can highlight your strengths in specific academic areas.
We all have strengths. A personal SWOT analysis helps you identify your strengths and make the most of them by aligning them with available opportunities. We all have weaknesses too. Identifying and managing those weaknesses allows you to avoid the potential threats that arise from those weaknesses. A personal SWOT makes the processes simple, visual and actionable and we will show you how to create your own one [2].
You can find zillions of forms and online assessment based on simple questionary on web.
Identify your interests: Think about what you enjoy doing and what you are passionate about. Consider the subjects you enjoyed the most in high school or the activities you find most engaging. These interests can help guide you towards a major that aligns with your passions.
What Are the Highest-Paying Fields?
When considering which major to pursue, determine how important salary and salary potential weigh into your decision-making process. If you're motivated by high earnings, pursuing a degree in a STEM-related field may appeal to you.
That said, some students care more about the importance of their work than the salary offered; they don't want a job just for the money. Popular non-STEM majors include human services, education, and visual or performing arts.
Lots of statistics on web provides a regularly updated list of positions offering the highest salaries.
On Career sites, Indeed, Monster, Glassdoor, FlexJobs, Ladder, Wellfound, LinkedIn, Getwork, Snagajob etc you can find job ads and salaries like in figure.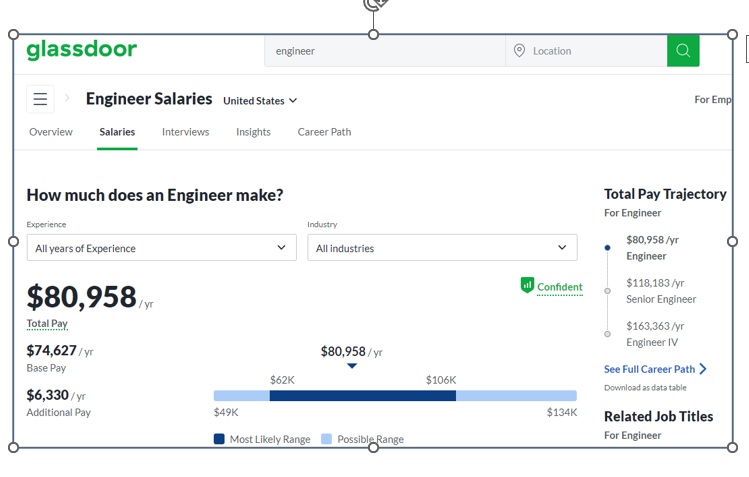 Psychiatrists rank high on this list, as do other healthcare professionals like oral and maxillofacial surgeons, obstetricians and gynecologists, and general internal medicine physicians.
If you want a job outside health and medicine, positions with high salaries include chief executive, physicist, computer and information systems manager, and architectural and engineering manager.
In social science you can look at https://www.indeed.com/career-advice/finding-a-job/highest-paying-sociology-degree-jobs for 16 Highest Paying Sociology Degree Jobs (Plus Duties and Salaries)
Job opportunity on the field you will choose at the country you plan to work after graduation or rest of your life
One of the most important decisions a person has to take is finding a good job and a professional environment. A long time ago people used to work for one employer their entire life and usually it used to be where they were born.
Nowadays technology and the modern way of life give the opportunity to have much more options to choose from. More liberal Legislations and democracy give a lot to people who want to have the career and professional development they want in the country they want to live and have a happy life.
Jobs with wide career opportunities in Türkiye for now, include engineering, programming, information technology, sales and management on the other hand for social sciences graduates it is very hard to find a satisfactory job unless graduated from a few very high ranked universities.
Another questions must be considered: What jobs or job fields will become obsolete by the 2030s, 2040s, 2050s?
How Rigorous Will the Coursework Be?
Some majors may feel harder than others due to factors like the heaviness of homework loads, course expectations, and the frequency of exams. Classes in your major will make up a significant portion of your college course load. Before you declare a major, make sure you understand how rigorous your weekly workload will be.
Indiana University Bloomington's 2016 National Survey of Student Engagement determined the most difficult majors based on the average time students spent per week preparing for classes. The hardest majors included architecture, chemical engineering, and aeronautical engineering.
Easier majors, which typically required less prep time, included fields like criminal justice, communication, and public relations.
What Does Your Academic Advisor Say?
Speak with a career counsellor if you have any. Schedule an appointment with a career counselor to discuss your interests, skills, and goals. They can help guide you towards majors that align with your interests and provide resources to help you evaluate your talent.
Whoever you have a chance to chat might be your teachers, admin staff that keep your records and comments made by teachers, would be an important step to take when deciding on a major. The crucial point is to find someone that has enough experiences, knowledge about academia and workplace, all around the world. vision for the future trend, has enough knowledge on latest technological development, has information about the countries you want to go.
Where you are coming from and where you want to go?
These points should be valid for every country, but it is important to find additional information and advises on a specific country where you want to continue for your major.
Especially today the cost for attending a university abroad might be very costly. In use unless you grant scholarship, university tuitions are high, especially those famous and private ones. In Europe this might be lot cheaper. But in both cases, you have to take the living cost into the consideration.
Overall, the key to choosing a major is to identify your interests, research career options, consider your strengths, take assessments, and seek guidance from a career counselor. By taking these steps, you can make an informed decision and select a major that will set you up for success in the technological field.
Confucius probably has the best longstanding quote about "do what you love." His words, "Choose a job you love, and you will never have to work a day in your life," have been repeated throughout history.
"CHOOSE A JOB YOU LOVE, AND YOU WILL NEVER WORK A DAY IN YOUR LIFE."
---
[1] https://www.gallup.com/workplace/349484/state-of-the-global-workplace.aspx?utm_source=google&utm_medium=cpc&utm_campaign=gallup_access_branded&utm_term=&gclid=Cj0KCQjw54iXBhCXARIsADWpsG-dvSXXa2CHuDpQAysF3ES20y1fYBEQb3EycTtImjIUtnsDfi7I5lYaAsPtEALw_wcB
[2] A personal SWOT analysis is a tried and tested method of evaluating one's strengths and weaknesses. SWOT stands for strengths, weaknesses, opportunities, and threats. The purpose of a SWOT analysis is not just to list down these things, but to also expand upon them to improve your personal and career growth.