We are under the Cappadocia Ultramaraton Starting Point-Arch  at 6:30 in the morning at Ürgüp, Cappadocia. The race start time is 07:00.  Two-group starts running: 60K and 110K. I will run 60K. The weather is cold 5-6 degrees and dark yet. However, due to the temperature to rise above 20 in the afternoon, I am wearing a light T-Shirt. Somebody set a fire nearby and we are getting some heat.
Ultramaraton is not only a healthy lifestyle or a longevity key, but  it is a philosophy in the developed societies (2017 Cappadocia-Ultra 114 Km from 150 people, only 45 from Turkey, while  Romania 9, Poland 8, Russia 8, France 7, Greece 7, United Kingdom 7, Belgium 6, Japan 6 ………). Cappadocia UltraMarathon: There is no such a place to run around the world: terrain, panorama, history, weather… Even the most famous ones :Spartathlon, Mont Blanc, Western State, South Africa do not have so many natural beauties according to the participants. Meanwhile, Salomon Cappadocia Ultra Trail has entered the ultra-Trail World Tour (UTWT) calendar, where the most prestigious events of the world can take place since 2017, and for that reason many foreigners have been attracted here only for running in this event.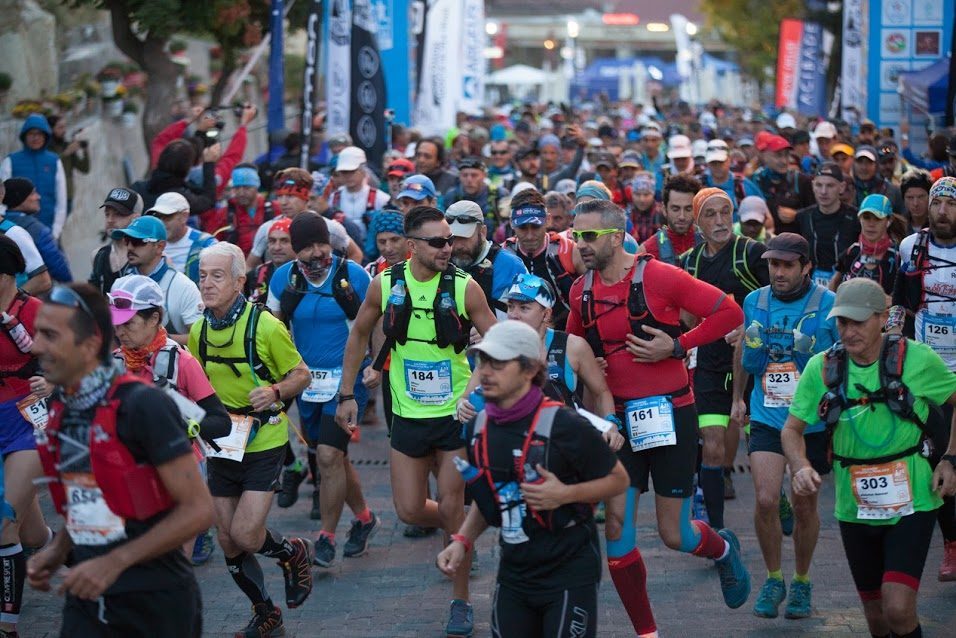 The race started just on time at 07:00 sharp. We, 450 runners,  all started to climb up toward Ürgüp exit with a great joy.  The sun just rising There are quite a few tourists in Cappadocia even in this season. The baloons  already have taken off in the air in fornt of us carrying the tourists who want to  watch the sunrise over Cappadocia magical view background; what a landscape: fairy chimneys, balloons, houses carved into the rock on the sides of Urgup.

Let's get back to race: At first, there is no fatigue yet, we are all fresh. That's why everything looks perfect. The first stage is about 10.6 Km within the whole plan to take about 8-9 hours for myself. When we arrived the first CP (Refreshment Point) İbrahimpaşa, everyone who fascinated by the air, the scenery, the psychology of the event  telling each other that it was so good to participate the event and run in. But the climbing had not yet begun.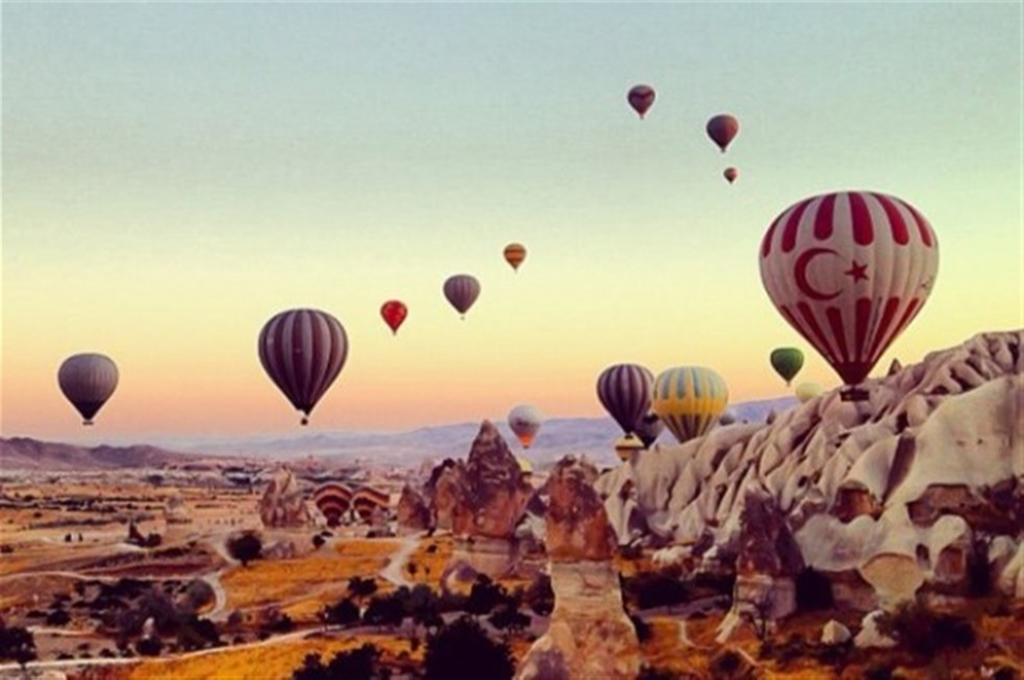 When we look at the running course and altitudes, we see that all the cities have been visited as a full Cappadocia Tour. But not using the normal driving roads, instead by climbing up to the steep uphills, going dangerous downhills, passing under the rocks that are carved under fairy chimney. Up to Uçhisar there will be 15 Kilometers and two more hills are waiting. Uchisar was founded at an altitude of 1500 meters. When we come to the skirts of this hill, everyone started to walk. When we approached to CP, a delightful smell spread around. When I searched around to find the source of this smell  I saw one of the most beautiful flower gardens I've seen till today.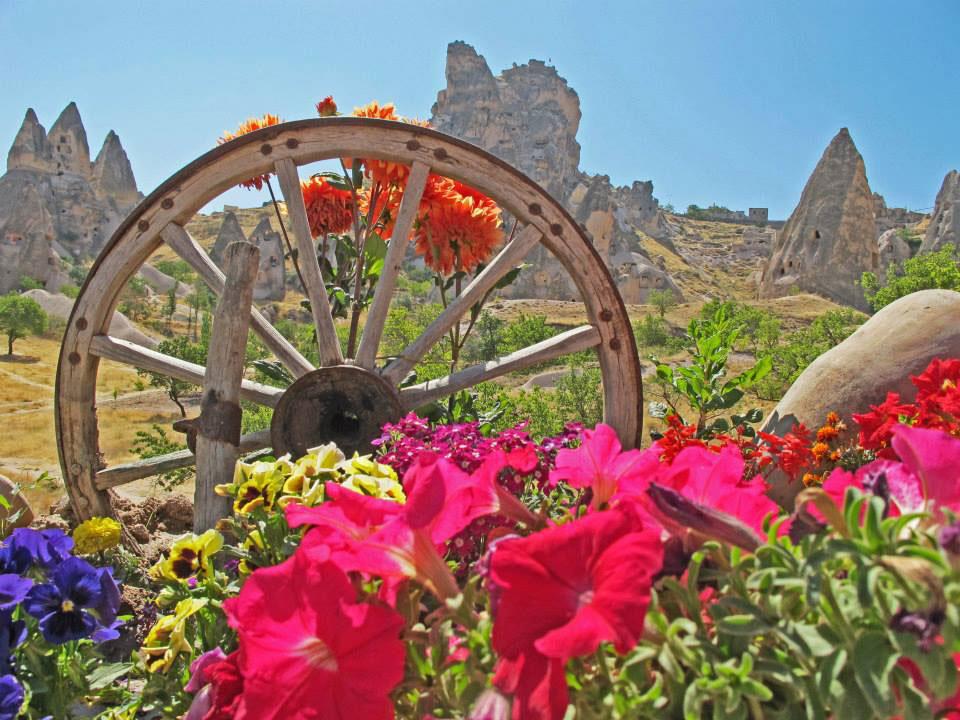 After having refuled and got some rest  at Uchisar CP, we set off for the third stage, which is relatively an easier one. I arrived Göreme quickly, because of the short distane abut 7 Km; what goes up must come down. But it is not flat in the ups and downs: Stoney, sandy; in some places you can only descend with the help of rope or stairs. It seems that everything goes according to plan. But, the next stage between Goreme and Çavuşin is getting to be tough because of fatigue of 30 more Km, increased temperature and terrain. And the plans starts limping. When I arrive CP in Cavusin, at Km 44,  the frustration covers by the effect of being both tired and lagging behind scheduled target time. For a moment, some cells in the cortex of my brain cast a fishing line thinking "these roads will not be ended, quit the race". But I must complete the adventure and cannot quit now because of  so much expenses, heavy training and exercises, promises. A few meters away from Cavusin I hit the a wall, namely Akdağ means White Mountain. Mamma mia,  What on earth is that? But I have to pass over it. Running aside going up by walking is very hard.  If we stumbling on a rock or other obstacles which there are abondance around, you can imemdiately find yourselves at the bottom of the mountain. Some runners carrying skier's batons, officially we are performing mountaineering. The climbs I thought would end up on the top of the wall but after every climb we find ourselves in front another height to climb.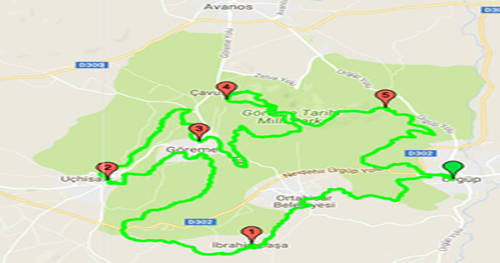 Finally climbing finishes and I started to ascend and arrived at final CP exhausted. My PL (personel Longest) was Fifty kilometers before and run only once at Iznik ultra.  After a little bit of restig and fueled, I forced myself to get to go for final 10K with my cramp ready legs and aching feet. After a few kilometer I saw Urgup, where the finish point set up. My stomach is full of water and coke mix making slopping sounds. Suddenly I realized that the road signed as our route turning away from Urgup; that was frustrating. But finally hearing from the words from a young man running opposite us, who already finish the race and coming back to find his friends:"Hang on, last kilometer" I rejuvenated.  Last  part was downward but cobbled. When I realized that this was gonna end of the story I started to sprint and arrived the finish line, exhausted but satisfied, without having any injury, cramp. That was my new PR  as a longest run, 60K.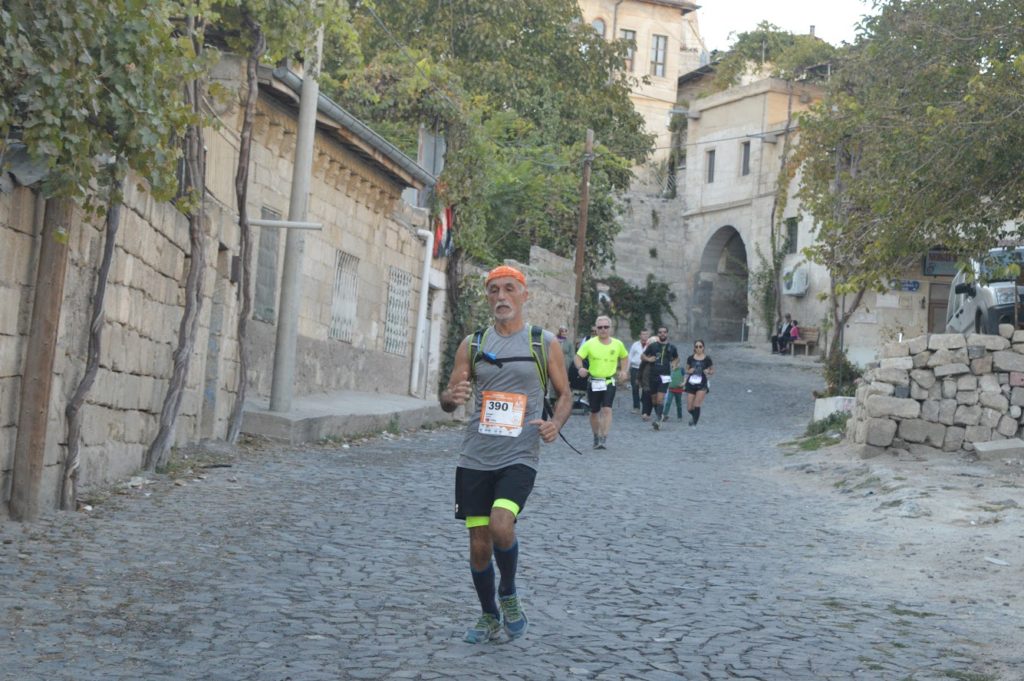 Once more, I am very happy being  participated this nine hours, sixty one kilometer and 1800 meter climbing run  with a motto " meglio tardi che mai" motto .